A community for young urbanites
The prevailing housing shortage in Stockholm makes a lot of people, especially young inhabitants, struggle to find a home. At the same time, loneliness keeps growing into a bigger issue in the capitals, despite the fact that the population in getting larger.
In southern Stockholm, we are addressing these challenges with the youth housing project Vårbergstoppen. With a comprehensive focus on social sustainability and community, 174 apartments are being developed as an important contribution of residentials dedicated to young inhabitants.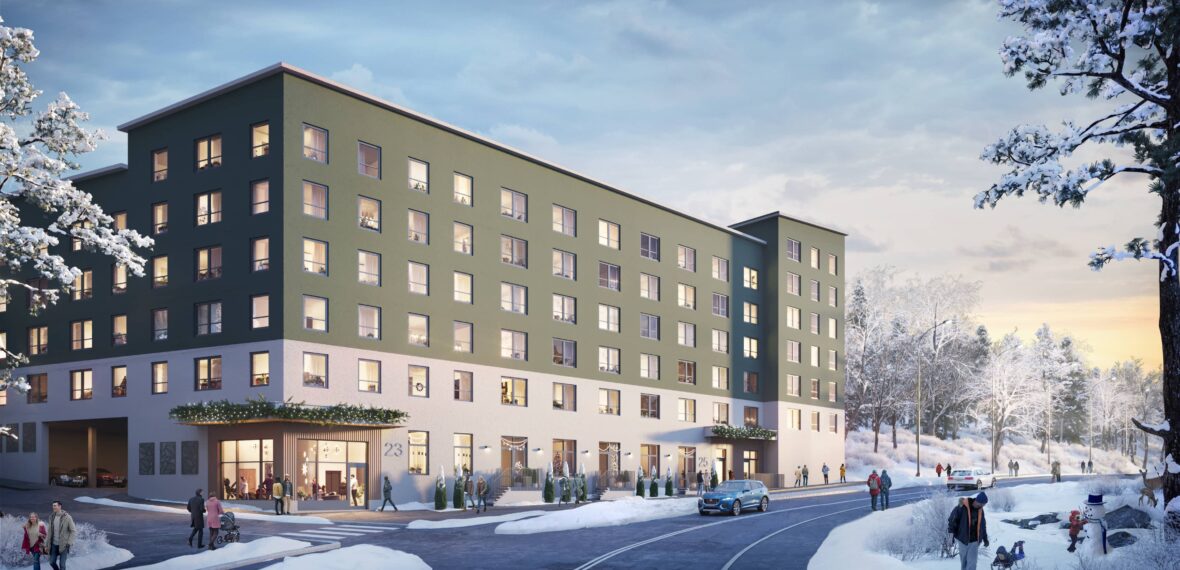 Emphasising social sustainability
The youth housing project is a part of the urban development project 'Focus Skärholmen' that aims to regenerate the area, where hardly any new residentials has been built since the million programme during the 60's and 70's, into a vibrant and attractive urban area in Stockholm. In total, at least 4,000 new residential units will be built with close proximity to schools, service, greenery and community areas in the years to come.
Social sustainability is an important focus area for the whole urban development project. As real estate owners with a long-term perspective, we have allocated resources to support and encourage the residents to realise their own initiatives, such as health activities or urban cultivation. The initiative will enable social connections and contribute to the residents getting to know their neighbours.
To further strengthen the well-being and local culture, the open and daylight filled entrance is being developed to be a furnished community space.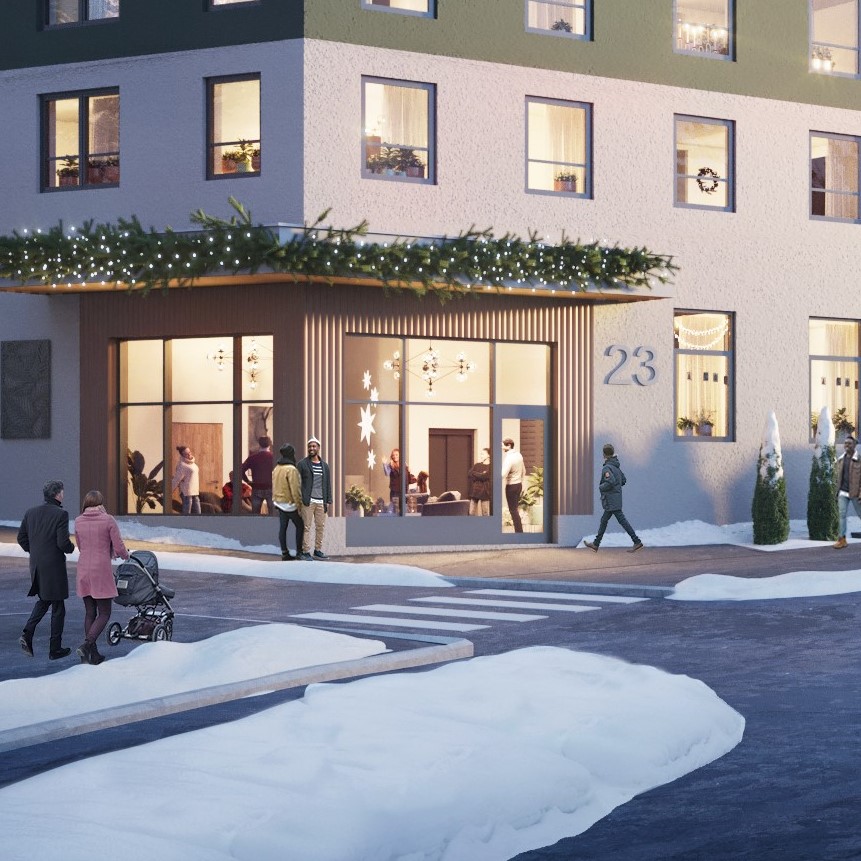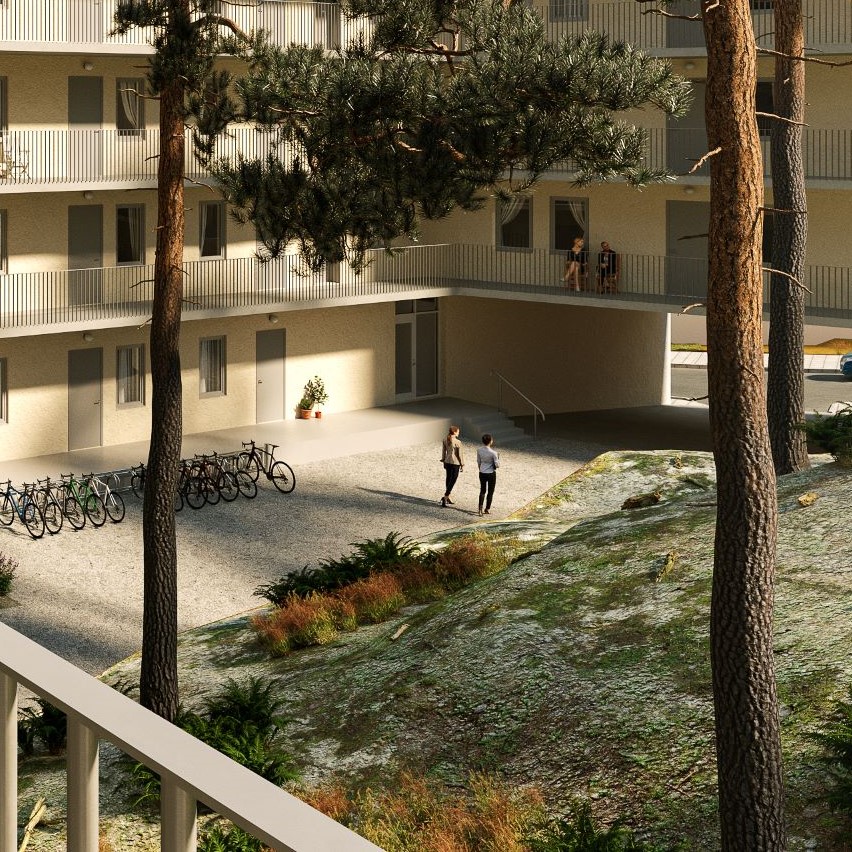 Nature and city pulse around the corner
The project is located next to an eventful outdoor park. The green areas will enable an active lifestyle with its open spaces, barbeque stations and outdoor gyms as well as the nature reserve area next to the sea inviting for a swim.
Vårbergstoppen's green courtyard with trees, wooden deck and verdant paths invites for social connections, and the facility's communal spaces is being developed with a strong focus on promoting a welcoming culture among both the residents and their visitors.
Within walking and biking distance, the residents can access public transportation as well as Skärmholmen's centre with shopping, restaurants and service. The vibrant pulse in Stockholm City is also reached within 20-25 minutes.
The majority of the youth housing units will become two room apartments (one bedroom), but the project will also contain studios and three rooms apartments (two bedrooms). Vårbergstoppen is being developed by Wästbygg.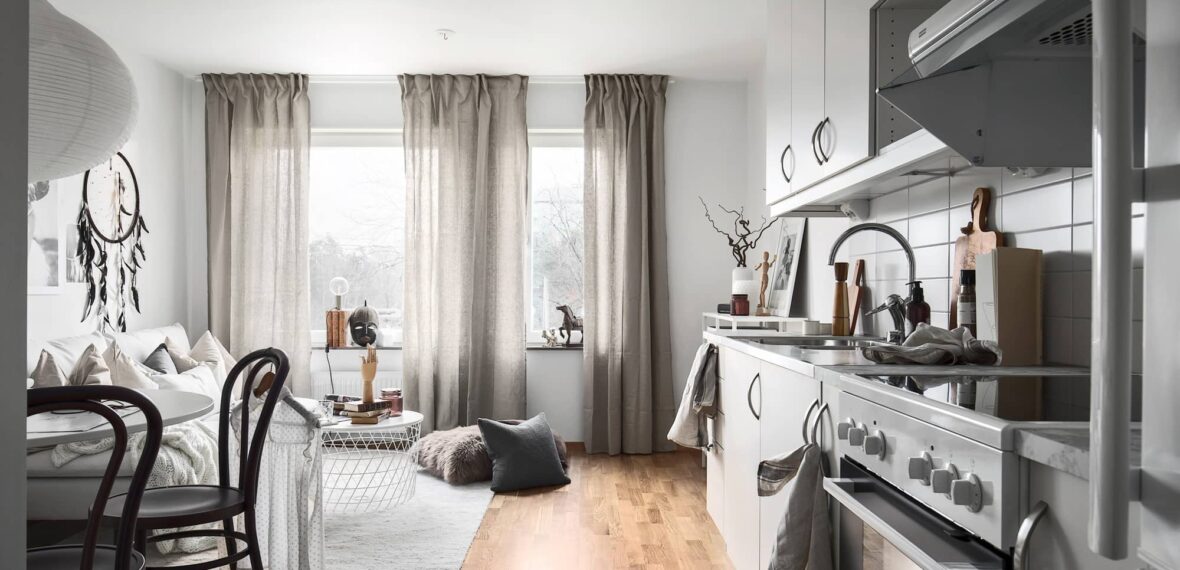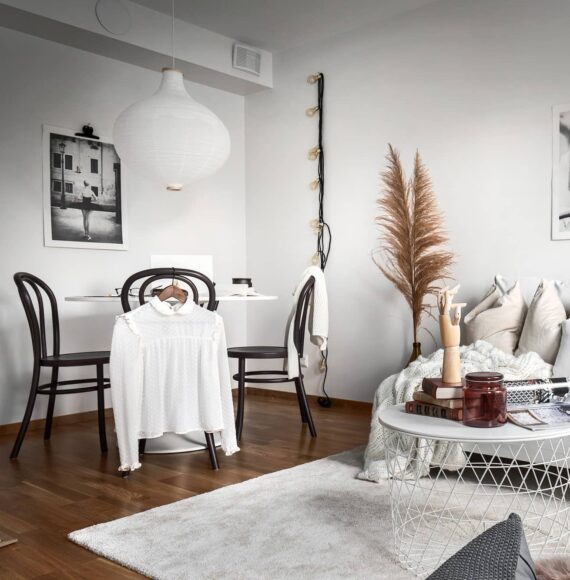 Project summary
Project type: Residentials, youth apartments

Locations: Vårbergstoppen in southern Stockholm

Sustainability profile: Social sustainability is given priority by a design that promotes social interaction, and by allocated resources to support community activities. The project will be ecolabeled by the Nordic Swan Ecolabel.

Size: 174 youth apartments: 1-3 room apartments, 24-63 sqm

Developer: Wästbygg

Completion: 2022
"Youth apartments will contribute to nudging Stockholm's housing market in a better direction. Now, we'll contribute with a long-term perspective in the City of Stockholm and especially in a very important urban development area. This will not only become functional homes, but a community with important spaces for activities and an inclusive culture."

Rickard Langerfors