There is a massive shortage of student housing in the Nordic capitals and university cities. Existing student housing is mostly outdated, and often new builds doesn't match the preferences of living in a modern community expressed by the students themselves.
UMEUS Amager addresses these challenges, providing approximately 350 students with affordable modern community living in a central location.
UMEUS Amager is a +10,000 square meter student community with 343 ultra-efficiently designed rooms. The majority of the rooms will share a common kitchen with 14-20 other students. The students will have access to many common facilities, including reception, entertainment lounge, study zone, group rooms, fitness, laundry and roof-terrace.
The design and furnishing of the rooms as well as the communal spaces are the results of extensive research to provide students with what they value in life at an affordable monthly rent.
UMEUS in Copenhagen is located in the attractive Ørestad Nord area, next to the University of Copenhagen and the University of IT Copenhagen. The property is close to the city centre and within walking distance to two Metro stations, providing quick and easy access to the cultural life, entertainment, and many other draws that Copenhagen has to offer young people.
NREP created the opportunity to provide student housing in this location through close relationships and collaboration with a local developer and the municipality.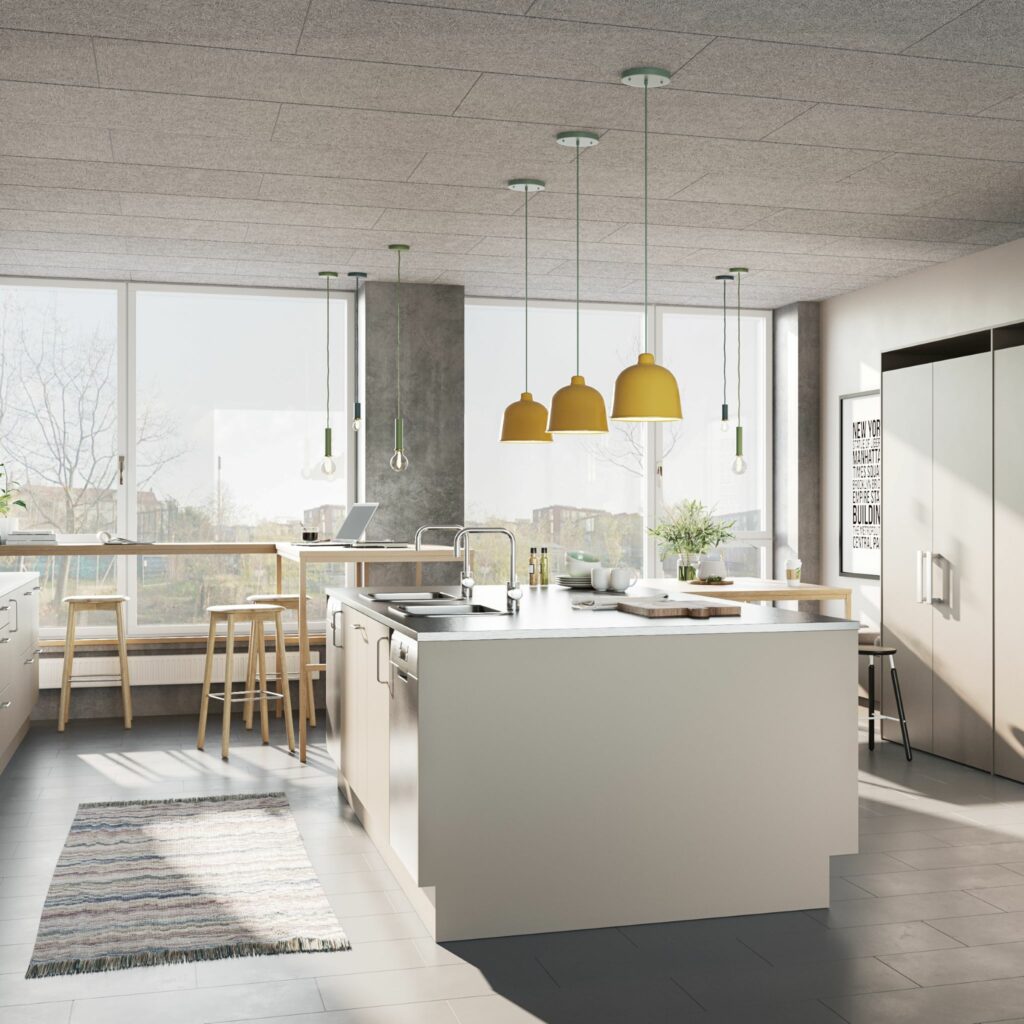 Focus on community and diversity
Within the larger community of the building, which is served through the groundfloor facilities, connectedness between students is based on smaller communities of 14-20 students that share communal kitchens that form the hearts of smaller subdivisions of the building. The communal kitchens are designed to create the best setting for students to meet and build a sense of community. Whether students want to cook together and have friends visit for dinner, hold a movie night, grab a beer, or play board games together – this is where it happens. To further strengthen and enhance the social sustainability of the community the composition of student resident is not random in UMEUS. The students are selected according to the diversity criteria to put together a diverse and united group of residents to establish a driving force for a strong community.
Sustainability
The UMEUS building is designed according to high standards of sustainability. To reduce the environmental footprint of the building, reduce energy consumption and create a healthy indoor climate, sustainability has been incorporated into the build program of UMEUS. Design features range from incorporation of upcycled materials in the core of the building to solar photovoltaics on the roof of the building. Through life cycle analysis of the environmental impacts of building materials, the use of renewable energy solutions and the optimization of acoustics, daylight, and indoor air quality, UMEUS contain sustainable qualities that make a difference for the environment and the residents.
The project is in the process of obtaining the Green Building Council Denmark's DGNB sustainability certification.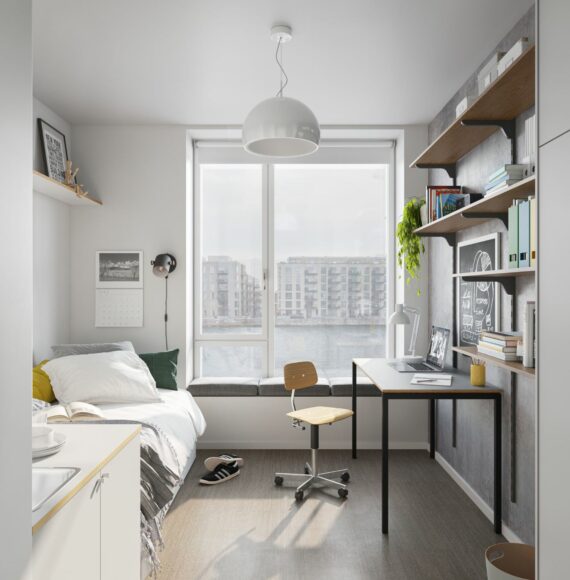 PROJECT SUMMARY
Project type: Residential, student community living

Location: Amager, Copenhagen

Sustainability profile: The project is in the process of obtaining the Green Building Council Denmark's DGNB sustainability certification. Upcycled materials in the core of the building, solar photovoltaics on the roof of the building.

Size: 343 student studios with large communal facilities