Triple Zero –
Planning our first decarbonized logistics facility 
We have committed to lead the way towards a world with carbon free real estate. 'Triple Zero' is one of three so-called Earth Shot projects intended to explore and demonstrate how to decarbonize the built environment. We hope to find new ways, and we want to share those with the industry. 'Triple Zero' is our first Earth Shot, where we are aiming for net zero emissions over the entire lifecycle.
Our initial calculations indicate the net zero is achievable. The project is, however, still in the design phase and calculations remain preliminary.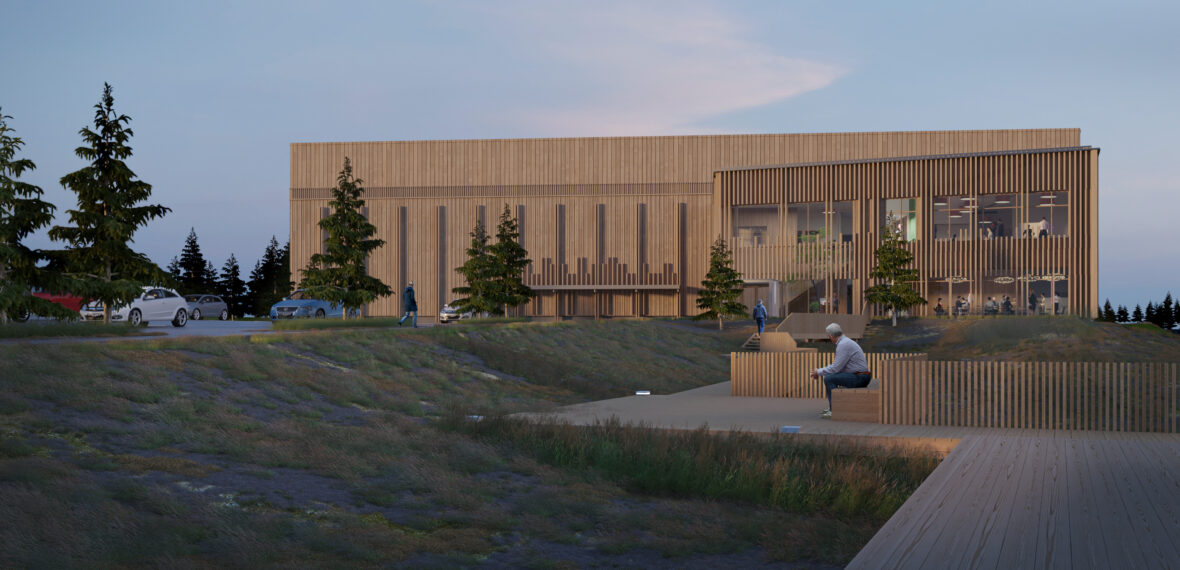 Why three times zero equals great
'Triple Zero' is a new standard for developing buildings, based on three important aspirations:
Net zero embodied carbon

 

Net zero operational carbon

Net zero additional cost
This is no small feat. And to our knowledge, it has not been done before. With this project, we are going above and beyond to find decarbonizing solutions. The ambition is to create the very first 'Triple Zero' building in the World. We hope this will serve as a blueprint for how buildings can be designed, constructed, and operated in a carbon neutral way. We are committed to openly share insights, mistakes, and learnings from this endeavor. 
The Triple Zero project: Combining traditional tools with new technologies
Bålsta is a short 50 km drive west of Stockholm. The city itself has some 15.000 inhabitants, but from here you can reach more than 3,5 million people within just 60 minutes. The area has a large concentration of logistics facilities due to its proximity to the E18 highway, connecting Stockholm and Oslo. Next to two other NREP projects, this is where we will realize the first of our three Earth Shot projects. At the core of our CO2 savings in this project is a combination of traditional tools and new technologies. Here is how we aim to get to zero – on embodied emissions, operational emissions, and on cost: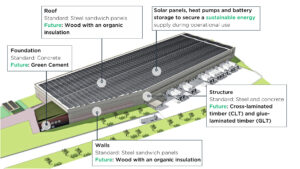 Embodied carbon
New, biogenic, and selected materials will be used to decrease embodied CO2 emissions. Re-designing the logistics facility enables a transition from fossil-based materials to materials with fewer emissions. As an example, using cement substitutes and optimizing the slab in the foundation could enable a CO2 abatement of >30% compared to typical NREP logistics buildings foundation.
For walls and roofs, usually made of steel with a high share of virgin and fossil-based stone wool, we will use wood for structures and façade. And we are exploring a new biogenic insulation material that has the potential to bind more CO2 than it emits during production.
Operational carbon
Logistics facilities consume a lot of energy. Reaching zero emissions from operations will be done by using industrial heat pumps and fully electrifying the logistics facility by installing solar panels. The ambition is also to install a battery power, for peak demand from the equipment and vehicles, and to contribute the surplus electricity to the grid.
Additional cost
While we believe that net zero on the carbon emissions is obtainable, doing so without additional cost is – to be honest – a bit more difficult. At least today. Until carbon friendly materials and technologies reach better scale, they do come with extra cost. However, based on our experience, we expect to see a green economic upside in this project. Already now, we experience strong and attractive financing interest from banks, and potential occupiers are lining up to move into this pioneering facility. Thus, we remain confident that altogether this project will be commercially extra attractive, and thus also 'zero' when it comes to the net cost.
Our plan to Reach zero during the life cycle

The initiatives mentioned above could save more than 60% on embodied carbon. To further reduce emissions, we will explore different disassembly solutions and are exploring future novel solutions. As the disassembly of this building will likely happen 50+ years from now, we're hopeful that even more solutions will be available at that point of time. Looking at what's possible today, we would commit to a mix of re- and upcycling of materials. For example, the foundation could be re-cycled as aggregate for pavements, and the structure could be re-used in other buildings, e.g. a new sports arena. End-of-life solutions remain challenging, and we are putting extra efforts into investigating novel solutions at this phase.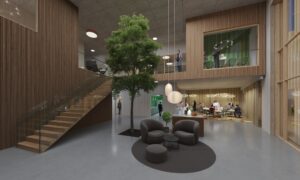 Sustainability beyond carbon emissions
SOCIAL AND HEALTH:In addition to carbon neutrality, this project focuses on the health and well-being of its users. The interior design is based on high-quality materials, focusing on materials and spaces that reinforce the social interactions between colleagues and customers, ultimately creating a stronger feeling of community within the workplace. The project aims for BREEAM certification Outstanding, covering all aspects of high-quality indoor air, acoustics aspects and visual comfort. There will also be a public outdoor gym, for both tenants and neighbors.
BIODIVERSITY: The Triple Zero site wants to take a high-level sustainability approach to the surroundings. The natural recovery will be reinforced by using local plants and trees, and by working with natural recovery, one can ensure neighboring plants spread to the targeted plot and thus foster biodiversity. In addition, open stormwater ponds as well as plant shrubs with flowers and the possibility to consider berry bushes that promote food and habitat for amphibians, birds and insects. These actions will nourish the natural ecosystem that will complement the actual installation of technical systems.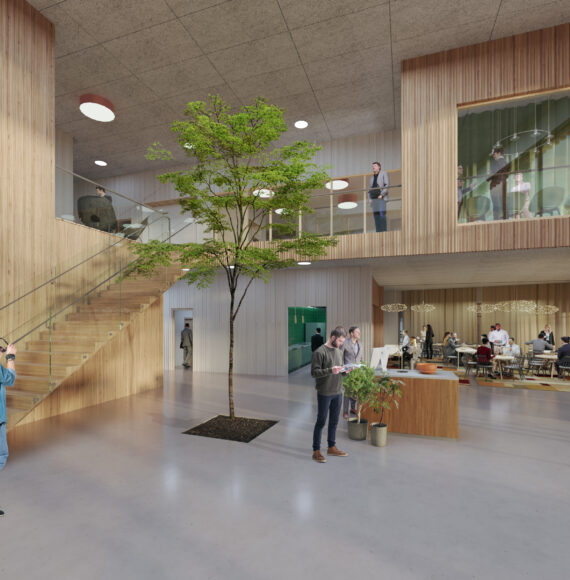 Project summary
PROJECT TYPE: Logistics

LOCATION: Bålsta in Håbo municipality, a short 50 km drive west of Stockholm

SIZE: Altogether 20 845 square meters, including warehouse and office spaces

COMPLETION: 2024

ARCHITECT: Equator

SUSTAINABILITY PROFILE: The project aims to reach net zero in both embodied and operational during the whole life-cycle. The property is developed with plans to apply for a BREEAM Outstanding certification. Special focus is also for the social and wellbeing aspects of the users and biodiversity of the surroundings.
We collaborate with the industry's leading innovators to push new boundaries and deliver the world's greenest logistics development. Drawing from the most advanced products available, this project will be a test bed for emerging solutions, with a view to creating a whole new, commercially viable paradigm in carbon neutral real estate.

Claus Mathisen, CEO of NREP