Community living
Many seniors struggle with loneliness, while many young families are struggling with stressors in their everyday lives but lack the supporting community context that could help alleviate some of those stressors. Plushusene in the greater Copenhagen suburb of Hedehusene consists of 139 homes that provide active seniors and young families a modern serviced community-based living with access to curated activities that harness the synergies between the two resident groups in a way that improves the quality of life for everyone. The site is located with access to scenic natural areas, yet close to public transportation and Copenhagen city.
Happier together
The community grounds and the homes are designed in a way that allows residents easy access to connectedness, but also allows privacy when they want it. In Plushusene, emphasis is placed on creating a strong sense of belonging. Plushusene community apps and facility management curate resident activities such as yoga, card clubs, joint running, sewing, baby-sitting, dog walking, choirs and cooking events.
The social meeting point and nexus is the large 650m2 community house, which provides space for residents and guests to meet across generations over coffee, books, baking, dining, or creative pursuits.
Robust materials and good indoor climate
Plushusene strives to create a neighborhood that supports health and wellbeing of the residents while also reducing its environmental footprint. Measures range from design and materials to optimization of acoustics, daylight, biophilia, outdoor spaces and indoor air quality – all to create a warm and harmonious life experience. Life cycle environmental impact analysis of different design, materials and energy solutions was used to holistically optimize the combination of end-user qualities and environmental qualities. The project process and design is according to DGNB GOLD sustainability certification.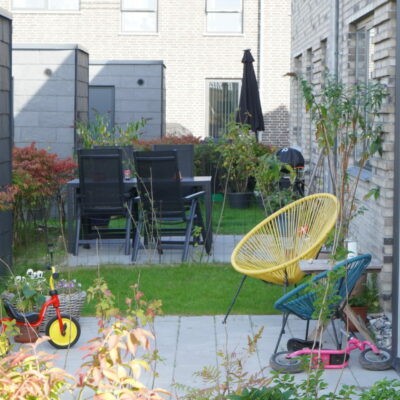 PROJECT SUMMARY
Project type: Residential, mixed-generation community living

Location: Hedehusene, Greater Copenhagen

Sustainability profile: To support community, Plushusene community apps and facility management curates resident activities such as yoga, card clubs, joint running, sewing and cooking events. Environmental elements include measures to reduce carbon emissions and increase on-site biodiversity.

Size: 139 homes mainly in terraced 1-2 storey houses and 600SQM community hub

Completion: 2020