Nrep takes the historic commercial centre of Sweden's first 'ABC' city into private ownership with the acquisition of Vällingby Centrum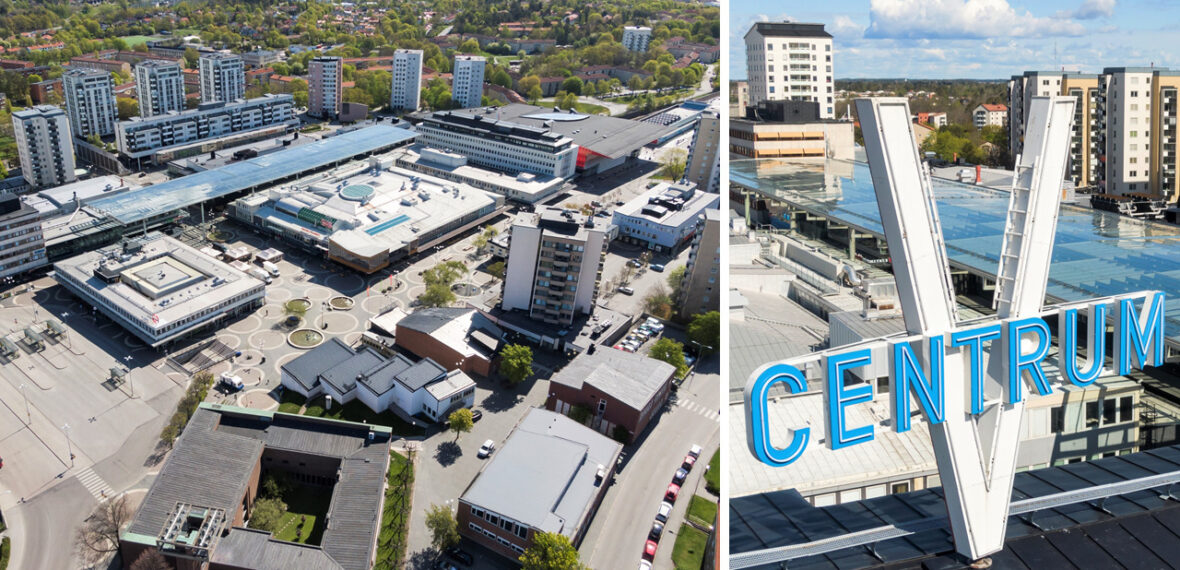 The original ABC community-based planning model forms the basis of the widely replicated '15-minute city' concept
Leading Nordic real estate investor NREP announces the acquisition of Vällingby Centrum in Stockholm, Sweden from Svenska Bostäder, the City of Stockholm's municipal housing company, for €161 million. Vällingby Centrum forms the heart and hub of the western part of The City of Stockholm, and was inaugurated in 1954 as Sweden's first ABC city – "Arbete – Bostad – Centrum", meaning "Work – Living – City Centre".
The ABC model is a community-based planning programme that was founded in Sweden in the 1950s and has since been replicated world-over, forming the basis of the more internationally known '15-minute city'. The concept behind these suburban zones, is that they would offer its residents everything they possibly needed, serving as self-functioning communities filled with housing, employment, retail and leisure amenities, alongside important social and cultural functions too.
Vällingby Centrum – the 'C' of this ABC city – comprises 76,206 sqm of space divided into six properties offering multiple uses including local necessity-driven retail, offices and a range of community services. The surrounding public spaces, including a town square, will remain under the municipality's ownership, with whom NREP intends to collaborate, sharing a focus on social sustainability with a holistic approach to how the properties can contribute to enriching people's everyday lives. Presenting a unique mix of culture, commercial activities, workplaces and open areas, NREP wants to maximise the Vällingby Centrum's potential as a desirable meeting point and place to convene, as well as being an everyday destination to run errands, for inhabitants and visitors alike.
Rickard Svensson-Dahlberg, Co-founder & Partner at NREP, said: "It's a great privilege to be entrusted with the responsibility for steering this landmark centre into its next phase of sustainable operation, and is testament to NREP's track record as a trusted partner of choice for public organisations. Having long drawn inspiration from the 15-minute city model, as reflected in numerus district development projects successfully executed by NREP, Vällingby Centrum provides an exciting opportunity to enhance the potential of a vibrant community hub with social sustainability at its core. We want to pay homage to its roots by seeing it prosper as a desirable place to live, work and play, and that's welcome to all."
NREP has long pioneered environmental and social sustainability in real estate, which plays a central role in its value creation strategy. It intends to leverage this experience, alongside its expertise in district development, to strengthen Vällingby Centrum's 15-minute city origins and broaden its appeal, whilst exploring opportunities for increased housing provisions and enhanced energy-efficiency, building on an extensive renovation and extension of the asset that took place between 2004-2009.
This part of Stockholm is a popular and well-connected suburb 15 minutes west of the city centre with a population of 213,000. Vällingby Centrum is the seventh largest retail destination in Stockholm attracting an average of 25,000 visitors per day.
Dennis Wedin, Deputy Mayor for Housing and Real Estate at the City of Stockholm, added: "The City of Stockholm is pleased to have made this agreement with NREP for Vällingby Centrum. From the outset, it was important for us to find a professional and responsible partner that had the ability and vision to utilise the opportunities on offer at this unique asset to the greatest extent. This transaction will importantly ensure that the City can focus on increased housing delivery for Stockholm."
NREP is the largest real estate investment manager in the Nordics with approximately €17 bn of assets under management. It is renowned for pushing the boundaries when it comes to ESG innovation and investment, and has committed to being carbon neutral by 2028 without external offsets. Spearheading initiatives to date include the use of CO2 neutral geothermal heating, projects such as the world's first 100% upcycled concrete building and 'UN17 Village', the first large-scale project to align with all of the UN's 17 Sustainable Development Goals.