Nrep launches international student housing concept in Norway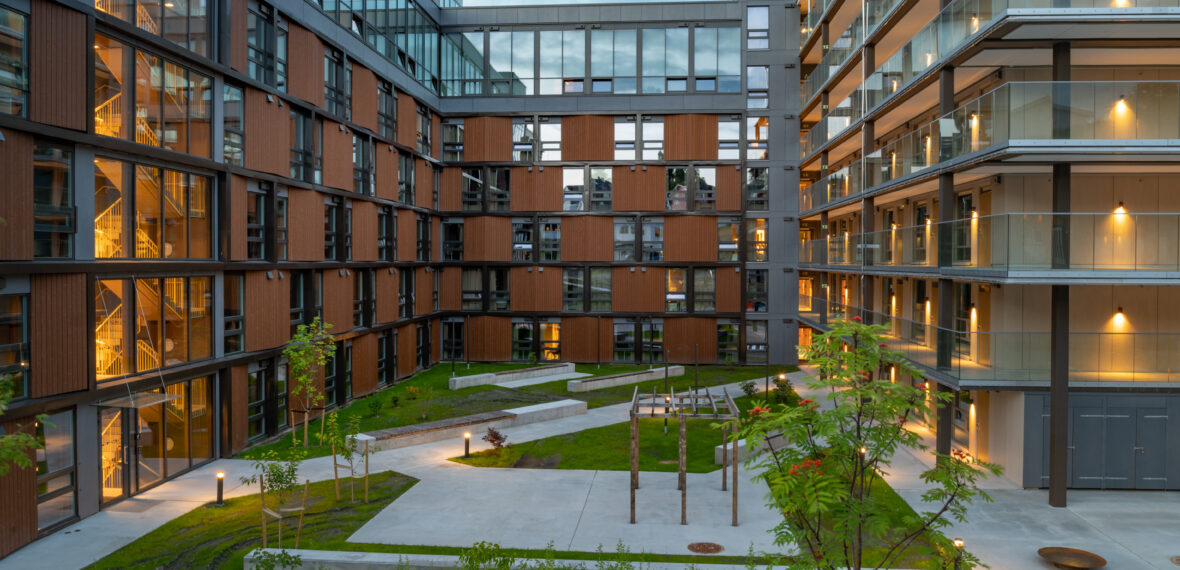 Photograph: m.herzog / visualis-images
The student housing concept UMEUS offers students modern, functional, and community-centered housing. It has already been successfully tested in Copenhagen and is now set to be replicated in Norway.  
 As summer comes to an end, thousands of students are moving into the university cities. For the over 10,000 students still waiting to be allocated housing, the beginning of student life can prove rather tricky. Nrep is continuing to help ease the pressure in the housing market, most recently with the local launch of its student housing concept UMEUS in Trondheim.
– Many students are struggling to find housing, and eventually end up on a waiting list or in unfavorable tenancy agreements. By introducing UMEUS we want to contribute to strengthening the student housing coverage in the second biggest university city in Norway, while simultaneously offering students modern, functional, and community-centered quality housing, says Pål Valgermo, Investment Manager in Nrep. 
Nrep's long-term ambition is to introduce the concept in all the major Norwegian university cities.
A predictable and community-centered student housing
Communities and social arenas have become increasingly important, especially post-covid. UMEUS is designed to accommodate these needs through universally designed common areas, in which tenants are encouraged to take typical student activities out of the dormitories and into safe common areas.
Predictability and safety in the living situation are important to the students' wellbeing. UMEUS strives to offer students professionalism and reliability in a rental segment that is notoriously unpredictable. Prioritizing solutions that enhance the quality of life of residents throughout all stages of the life cycle, is central to Nrep.
Housing model replicated from Copenhagen
When replicating the model from Copenhagen and bringing it to Trondheim, UMEUS brings positive user experiences along, reflected in the fully occupied student houses in Amager and Nordhavn. Additionally, three new student houses will open in Denmark over the course of the next three years.
The great variety in the UMEUS concept means there is something for every student and tenant. The new student houses are adapted to those who want their own studio, as well as to those who prefer to share. A common denominator in all the houses is the fact that they are adapted to the student lifestyle and in proximity to the university and city center, while being packed with modern common areas, study spaces and access to shared services.
-We believe it is important to have a housing concept that caters specifically to people who are in the transition into student life, and that such a housing offer should be available regardless of the choice of study, or city of study.  The UMEUS concept makes this transition as smooth as possible, while having qualities that are appealing to students of all ages, says Valgermo.