Nrep launches a new rental housing brand Juli Living in Finland – targeting 10 000 sustainable homes available for rent online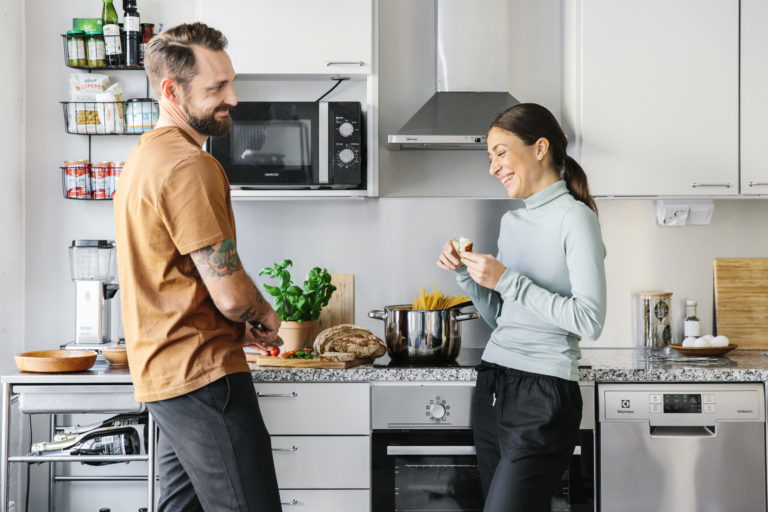 The leading real estate investor and developer in the Nordics, Nrep, is launching its new, ambitious Juli Living brand to the rental housing market in Finland, offering customers modern, high-quality homes conveniently via an online marketplace. Juli Living aims at high level sustainability and minimizing carbon dioxide emissions both during construction and operation. Roughly 3 000 Juli homes are currently under construction in the biggest cities in Finland, and Juli expects to increase the number to more than 10 000 apartments in the next few years.
Juli Living provides high-quality rental homes in the biggest cities in Finland in apartment buildings that are either brand-new or in very good condition. All the homes are available for rent 24/7 via the online marketplace of Juli Living. Juli Living challenges the traditional rental home market to become more digital and provides a service that genuinely makes customers' lives easier.
The online marketplace was designed with the customer's behavior in mind, putting mobile users first.
"Today, more than 70% of housing ads are viewed on the phone so we wanted to make renting a home just as effortless as other online buying", says Lotta Sjöberg, who is responsible for the sales and marketing of the housing business in Finland at Nrep. "You do not need to fill in an application and wait for a reply, but all the necessary information is available 24/7 in the marketplace, and you can rent a home whenever you want with a satisfaction guarantee."
Compared to a regular rental apartment, Juli homes feature higher-quality materials, such as stone countertops in the kitchen, carefully considered details and functional storage solutions. "Interest towards rental housing is growing, and we decided that we want to offer more options whose quality does not fall short of owner-occupied apartments", says Sjöberg.
Roughly 3 000 Juli homes are currently under construction in Helsinki, Espoo, Vantaa, Tampere and Turku, and the plan is to increase the number to more than 10 000 apartments in the next few years. The combined value of the apartments now constructed will be in excess of half a billion euros. The first apartments are now available for rent in Tampere: the first residents of Lielahden Tuuli have already moved in to their new homes, and Haukiluoman Kivikerkkä will welcome its first tenants at the end of November.
Juli Living represents Nrep's direction towards a better, more sustainable built environment
Housing and the related energy consumption make up about a third of the carbon footprint of Finnish households, and thus the development of carbon-neutral housing is important in order to cut carbon dioxide emissions. Juli homes embody Nrep's goals to examine and actively implement modern, green real estate solutions and boldly develop the built environment.
Ambitious targets have been set to minimize the energy consumption of Juli homes and use renewable energy, and the building design and planning is guided by the aim to minimize the carbon footprint of both construction and operation when possible. All the rental housing options of Juli Living run on 100 percent renewable electricity, to which Nrep has previously agreed to transition in all its properties. For instance, energy consumption in the buildings in Tampere will be controlled using artificial intelligence and, in addition, any remaining carbon dioxide emissions from construction and operation will be compensated. An increasing number of buildings are equipped to utilize geothermal heat and solar panels, among other options.
"I feel that we real estate developers and investors play an important role in creating a carbon-neutral society, so it is great that the Juli Living apartments are designed to reach ambitious targets and that minimizing emissions is prioritized both during construction and operation", says Nrep Partner Petri Valkama.
Nrep has previously announced in Finland that it is developing a near zero-energy apartment building in Jätkäsaari, Helsinki, and it has recently concluded a project agreement with Lehto Group to build several wooden apartment buildings in Espoo and Turku. In addition, Nrep is developing three apartment buildings in Turku with Aura Rakennus with plans to apply for LEED Gold certification for them. The projects are part of growing the Juli Living brand.
About Juli Living
Juli Livingis a housing brand created by real estate investor and developer Nrep. The heart of the brand is in high-quality rental housing, excellent customer service and the best price-quality ratio.Juli Living aims athigh levelsustainability and minimizing carbon dioxide emissionsboth during construction and operation. Juli homes are currently under construction in Helsinki, Espoo, Vantaa, Tampere and Turku. All the homes are available for rent in Juli'sonline marketplace.