Nrep initiates recycling project in Stockholm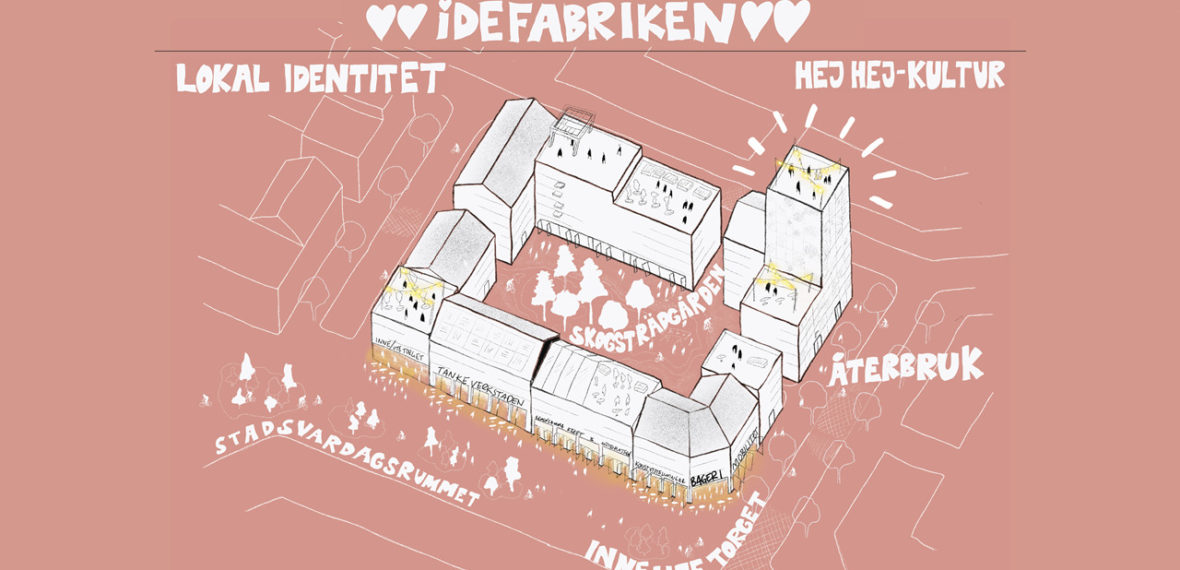 Nrep has now been entrusted with residential development by the city of Stockholm. The company has won a land allocation competition in Skarpnäck with its winning entry "The Idea Factory" – a cutting-edge project in sustainability which focuses on recycling of materials and strengthening the area's local identity. The project comprises just over one hundred homes and a preschool. This means that Nrep is continuing to grow via innovative residential development in the Stockholm region.
Since its inception, Nrep has focused on creating innovative and sustainable real estate solutions. Nrep has, for example, collaborated with architects Lendager Group to develop the unique and award-winning residential projects The Resource Rows and Upcycle Studios in Copenhagen – the world's most extensive circular buildings developed according to market conditions. Nrep is now set to carry out a recycling project in Skärgårdsskogen, Skarpnäck, in collaboration with Lendager Group and Tengbom. Tengbom offers its expertise and experience in residential development in Sweden and Lendager Group its knowledge of the circular economy and methods for material handling.
"Being entrusted by the city of Stockholm to take this project from idea to implementation is amazing. Both because we will be able to contribute more homes in Skarpnäck and because we can continue to develop our work on reusing materials with Lendager. Creating homes with reused materials contributes to influential architecture with history and strengthens the district's identity. By designing the properties with new solutions and long-term sustainable thinking, we want to improve everyday life for both the people who already live in the area and those moving into our new homes," says Joanna Berg, regional residential manager at Nrep.
The concept of recycling is central in The Idea Factory project and Nrep is allocating additional funding for the reuse of materials, construction products and building components, in addition to the residual long-term sustainability investments. A process for taking an inventory of materials will shortly be initiated – it may be timber, brick, concrete, glass or other materials that are reused or recycled.
"We are delighted to be contributing to the development of the Skärgårdsskogen district of the future. In Copenhagen, our collaborations with Nrep have resulted in ground-breaking projects that have raised the bar for both the reuse of materials and CO2 savings, as well as social and environmental sustainability. One such example is Upcycle Studios, the world's first and most comprehensive project built from recycled materials. In addition, we are collaborating on UN17 Village, the world's first large-scale building to address all of the UN's Sustainable Development Goals. We look forward to continuing our collaboration in Stockholm, where we will build on our joint results from Copenhagen and we have high expectations for our collaboration with Tengbom," says Anders Lendager, CEO, Lendager Group.
The residential project will contribute to the further strengthening of the community and Skarpnäck's local identity with the help of an open, welcoming culture with contributions such as urban living rooms and forest gardens. The project also aims to promote a sustainable lifestyle for those who move here and includes more than one hundred homes, a preschool and business premises that can be used for work, homework, and leisure activities – all with the aim of helping to strengthen the local urban culture.
"We are looking forward to working with Nrep and Lendager Group. This constellation of companies with high sustainability ambitions will be able to realise new levels of excellence in sustainable housing – Lendager Group with its strong expertise in material reuse, Tengbom with our architectural expertise and local knowledge and Nrep as a reputable operator focusing on quality, innovative solutions and sustainability at all levels," says Niklas Svensson, business area manager at Tengbom.
As part of Nrep's sustainability work, multifunctional roofs are being planned for both social interaction and environmental purposes such as green areas and solar panels.