Nrep hires the departing Mayor of Helsinki as Senior Advisor for Urban Development from August 2021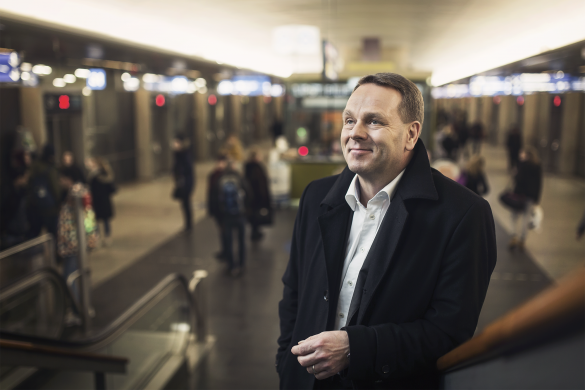 Photos: Jan Vapaavuori (by Jetro Starvén)
The departing Mayor of Helsinki, Jan Vapaavuori, will join Nrep to further strengthen the company's urban development efforts. Jan Vapaavuori will join the company in a part-time role as Senior Advisor for Urban Development after his term as Mayor ends in August. He will work across all Nrep's geographies to facilitate new solutions to the most pressing urban challenges, including infrastructure challenges and climate crisis.
As Mayor of Helsinki since 2017, Jan Vapaavuori has led a strategy to turn Finland's capital into 'the most functional city in the world'. He has generated many urban development initiatives, championed the city's digital transformation, aligned Helsinki's development to UN's Sustainable Development Goals, and further fueled the city's aim to become carbon neutral by introducing the one-million-euro Helsinki Energy Challenge. After the end of his mayoral term, Jan Vapaavuori will join Nrep in a part-time role as Senior Advisor for Urban Development, working with teams and projects across all Nrep's geographies.
"Nrep aspires to pioneer urban development, and we want to invest in ways which support cities and municipalities to develop and prosper in a sustainable way. We believe that solutions to urban challenges are often found in partnerships between public and private players. As a former Minister and Mayor, Jan brings decades of experience from the public side of real estate, and we look forward to work with Jan to help cities solve some of the most pressing challenges of our time like urbanisation and climate change," says Claus Mathisen, CEO of Nrep.
Jan Vapaavuori's previous experience includes terms as Minister of Housing and Urban Planning and Minister of Economic Affairs in the Finnish Government, as well as the Vice-President in the European Investment Bank. During his term as Mayor of Helsinki, Vapaavuori has been developing Helsinki's global partnerships including its active engagement with city networks and global NGO's and organizations such as The World Economic Forum, Bloomberg Philanthrophies and Urban20.
Despite now pursuing a career outside politics, he is committed to promoting and boosting positive developments in urbanization, cities' transformations, and the fight against climate crisis in urban areas.
"I have dedicated my life to improving communities and societies. I have had the honor to serve two-thirds of my career in politics, and I wanted to take this opportunity to find a new perspective on making a difference in the world. I am very motivated by Nrep's purpose of improving the built environment because I know how real estate really can be transformative for the development of a city. Nrep's projects are at the forefront of urban development, and I look forward to help Nrep help cities in new ways," Vapaavuori says.
While there is no Finnish legislation preventing a departing Mayor to assume a role in a private company, Nrep has decided to install a period of six months during which Jan Vapaavuori will only engage on Nrep projects outside the city of Helsinki. For the remainder of his term as Mayor, he will also refrain from taking part in discussions where Nrep is a party.
It is the second time that Nrep hires a former Mayor. In 2018, the former Mayor of Copenhagen, Jens Kramer Mikkelsen joined to build up the company's capabilities within urban development.
"Best practice from Nordic capitals is in high demand, as these cities are frontrunners in liveability and sustainability. Jan is especially known for his focus on functionality, citizens' quality of life and the intent to do things a little bit better every time. Having followed Jens Kramer Mikkelsen's work for Nrep, we are delighted to add another high-caliber urban expert to our team," Mathisen ends.