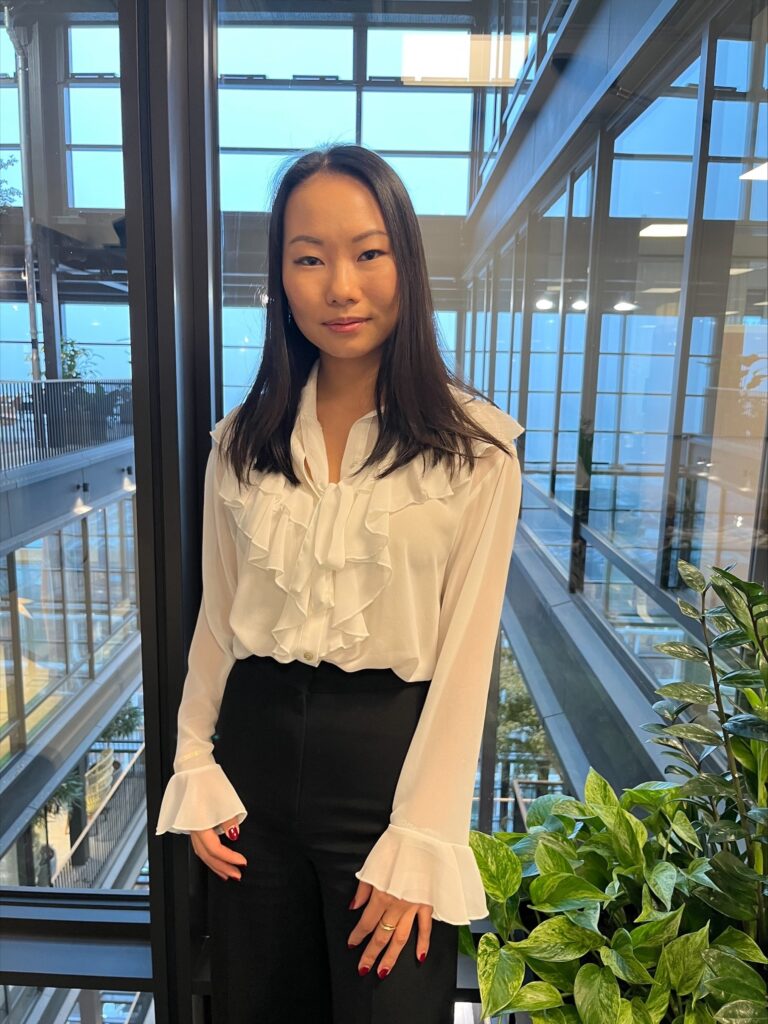 Exploring career opportunities through internal mobility
– Caroline zheng
How I ended up at NREP and why I have stayed
I stumbled upon NREP when I was in the second year of my university studies at the Stockholm School of Economics. I was looking for a part-time opportunity besides my studies, curious to apply some of the theories taught in school and gain some relevant experience. Although NREP and the PERE (private equity real estate) industry was completely new for me, I took a chance and applied for a student analyst position in finance team, hoping to gain some experience for some months. Four and a half years later, I am wrapping up my MSc studies and still working at NREP.
The first three and a half years I was part of the finance team. I had the opportunity to work within different types of functions such as fund controlling, investment controlling and debt financing. During the years I gained valuable insight in fund operations, accounting, and financing. Furthermore, I really liked that I was early on given the opportunity to collaborate internally with Nordic colleagues as well as externally with NREP's external providers, which further contributed to my development, both career-wise and personally.
With a growing interest in finance and investments, I pursued a MSc degree in Finance to further excel my knowledge within the field. I was also curious and eager to take on new challenges and gain relevant exposure within this new field of interest. During the last year, I have taken on a new role in NREP's investment team, working with investments and business development. My main tasks include financial modelling (what we call "underwriting") and preparation of materials of potential investment opportunities.
Internal mobility at NREP and building your early career
The growth journey of NREP has been truly impressive. With around 50 colleagues in Stockholm when I started, the Stockholm office is now approaching 150 employees (December 2022). Although I was curious to find myself new challenges after starting my Master's studies, the inspiring growth path of NREP was (and still is) something I wanted to be part of. With a growing interest in real estate and sustainability, I was not yet ready to leave the industry nor NREP with its forward-thinking sustainability agenda.
Before, I had heard about a couple of colleagues who had transferred to new roles within the company but did not know to which extent it was possible for me. I brought up my concern to my immediate leader and was positively surprised by the encouragement and support I received. My leader was very helpful and reached out to both HR and the new team to drive the transfer. My old team was very supportive and we are still working and collaborating together. To cope with the current growth journey, it has been immensely important for NREP to both attract and keep talent. Therefore, I have noticed that the internal mobility possibilities at NREP have increased as well.
Reflecting back to my own career to date, it has not been straightforward nor have I known beforehand where I would end up. Being in the early phase of your career, it is sometimes difficult to know what you want to do or which direction to go. I would therefore encourage you, if you are in the start of your professional career, to always be open for the opportunities you find intriguing and dare to seek new challenges that support your goals. By keeping an open mind and trying out different things, you might encounter roles and industries you would have never considered in the first place and find your own path. And who knows, maybe you would end up at NREP just like me?
– Caroline Zheng, January 2023