EARLY STAGE AND HOLISTIC SUSTAINABILITY 
The neighborhood block Parkkvarteret in the Stockholm suburb Barkarby is a 13 000 square meters residential rental development with high environmental and social sustainability qualities. The project provides 220 homes coupled with retail and services in the groundfloor.
Parkkvarteret is a residential rental development located right next to public transportation infrastructure and a convenient commute into downtown Stockholm. The apartments range from 1-5 rooms and are designed to support inclusiveness and diversity in the neighborhood, offering housing for people in different situations and different stages of life. The inner green areas as well as the ground floors provide spaces supporting community and connectedness between residents.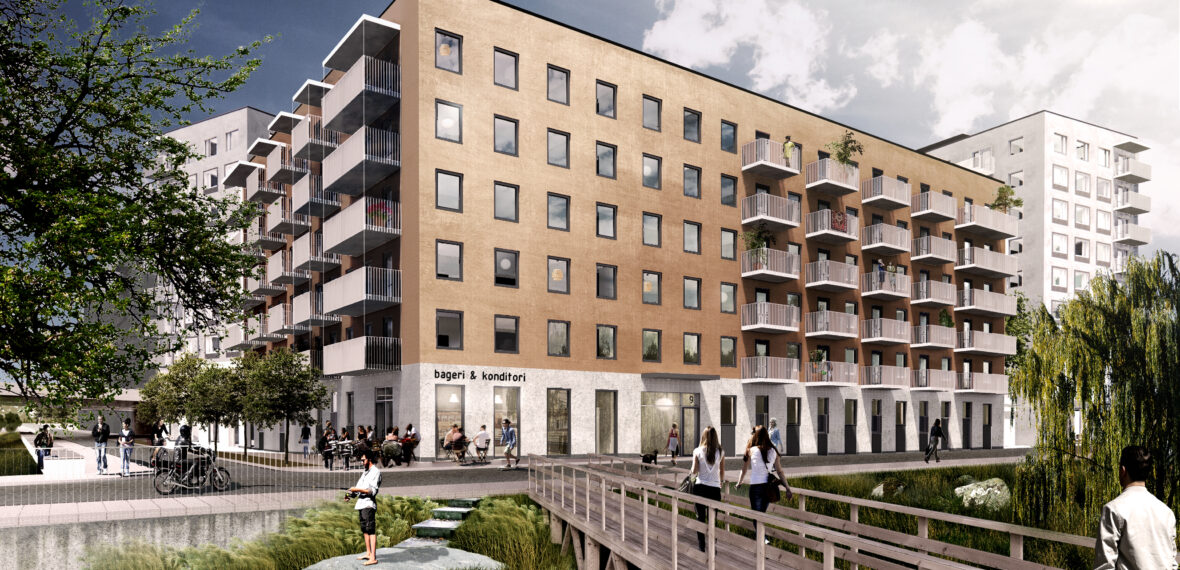 REDUCING EMBODIED AND OPERATIONAL CO2
NREP started discussions with Skanska, a developer with high sustainability ambitions and capabilities, in 2020 on the ambitious Parkkvarteret with a planned completion in 2023. Right from the outset the development has been guided by a high sustainability ambition. Already from the very start early stage LCA was conducted to understand the embodied carbon footprint as well as the operational carbon footprint of different design alternatives, materials choices and construction methods.
CO2 reducing measures are incorporated throughout the building, ranging foundation and structure to energy systems. Specific measures include both reducing the use of concrete where possible and then wherever possible substituting standard concrete with Skanska Green Concrete, a concrete that consists of a high proportion of slag that replaces some of the cement volume and reduces CO2 intensity by up to 50%. Efficient building envelope and HVAC systems coupled with on-site roof top solar PV serve to significantly the reduce energy demand of the building.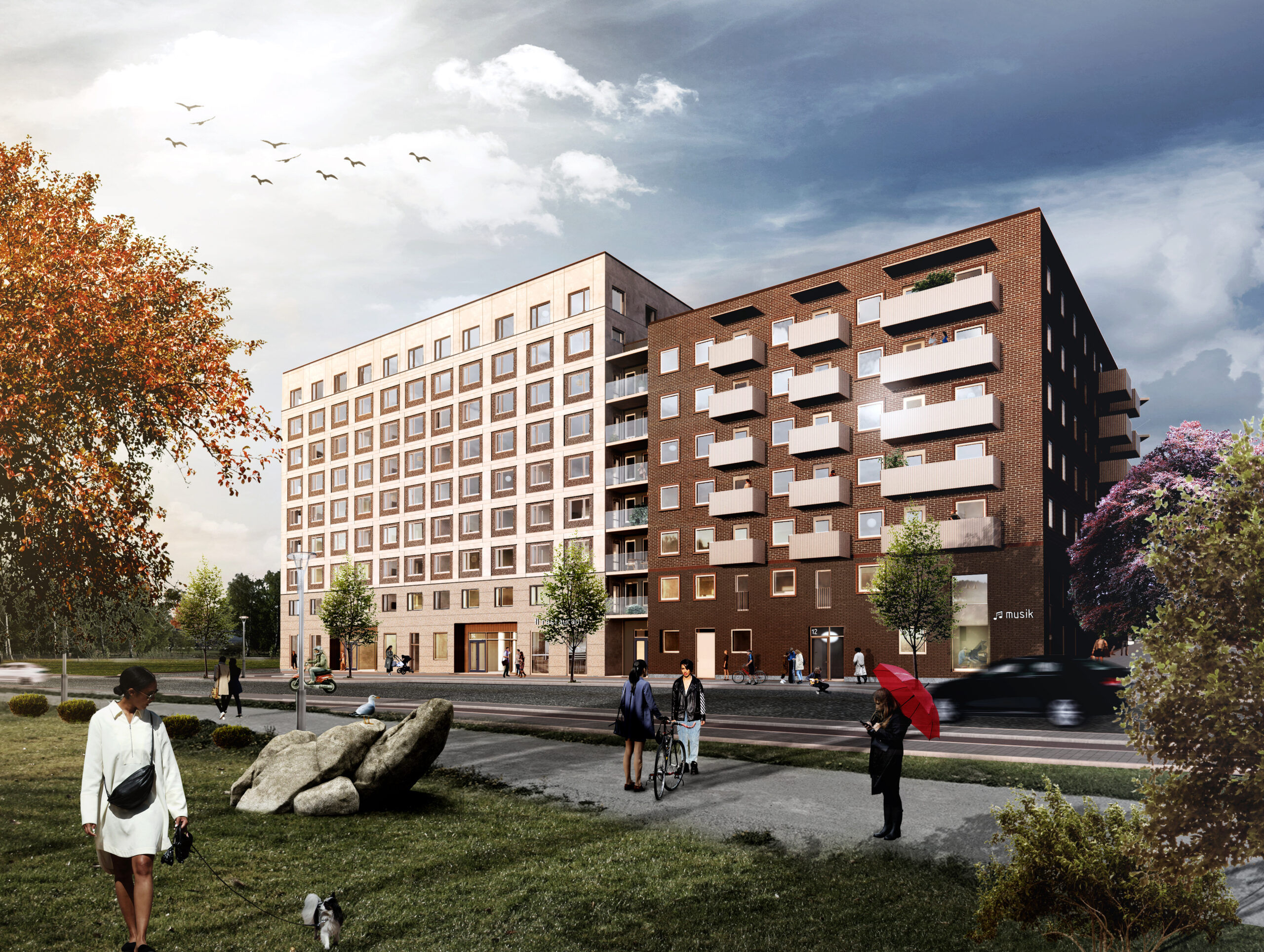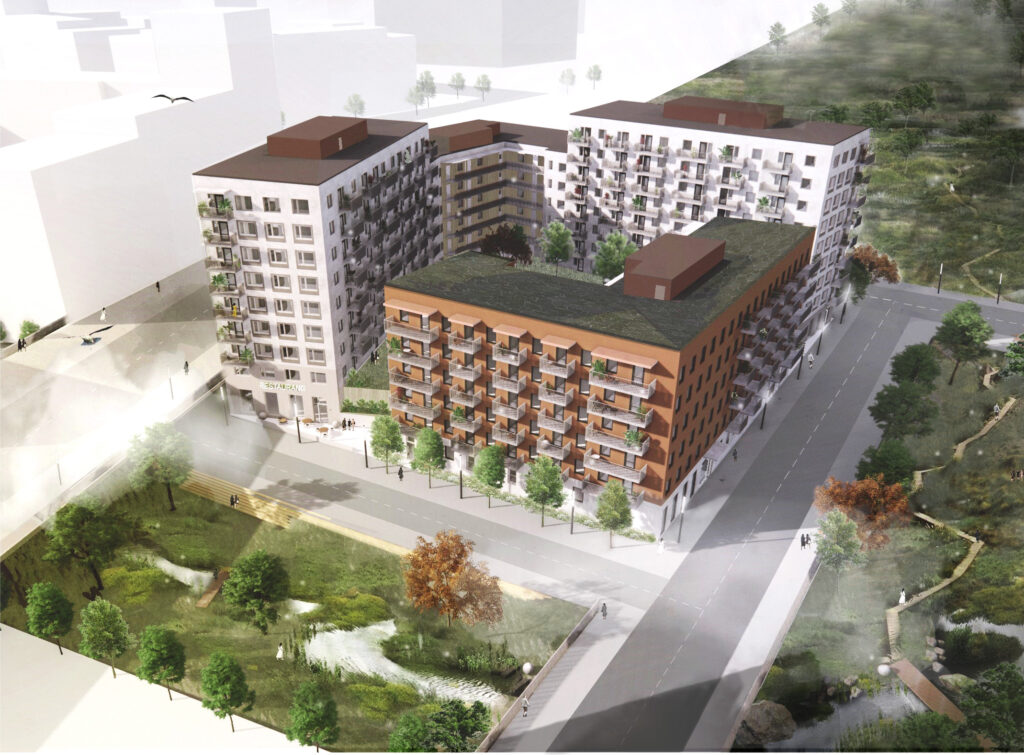 Climate change adaptation
Looking beyond carbon footprint, other environmental sustainability dimensions addressed include for example water consumption reduction measures, green areas and climate change resilience design measures, which includes comprehensive water management solutions dimensioned for 100 year floods.
Green spaces are designed both to increase the quality of life for resident and to delay water flows by designing green spaces in several levels with capture ponds and plantations that delay water release.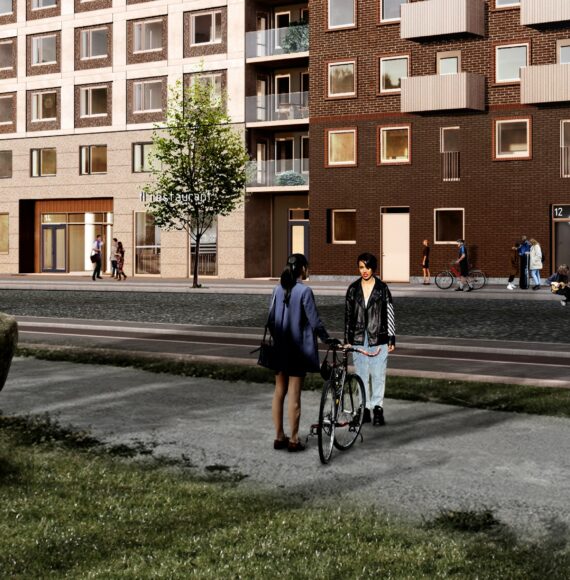 PROJECT FACTS
Project type: Residential

Location: Barkarby, Stockholm

Size: 13 000 sqm, including 220 apartments ranging 1-5 rooms plus ground floor retail spaces

Developer: Skanska

Project start: 2020

Completion: 2023

Sustainability profile: Measures reducing embodied and operational carbon, as well as addressing a broad set of other environmental and social sustainability dimensions